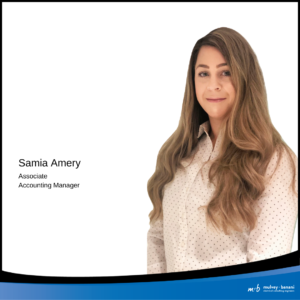 Mulvey + Banani (m+b) is excited to announce the promotion of Samia Amery to the position of Associate.
Samia is an accredited CPA, CGA. She is our Accounting Manager.
She began her career with m+b in 2013 in the Accounting Department, where she has played a crucial role in the company's success. Samia brings with her several years of experience and exceptional leadership skills to continuously supporting M+B to be a successful Electrical Engineering Company.
m+b is a cutting edge electrical engineering design firm operating in Alberta, Mulvey+Banani (m+b) has developed a powerful reputation for quality service and electrical engineering excellence. We are a company that specializes in electrical consulting for the building industry. We are experts in the field of electrical engineering design and communications systems for commercial, retail, residential, industrial and institutional buildings. To know more about our Edmonton Office:  1 (780) 498-6532