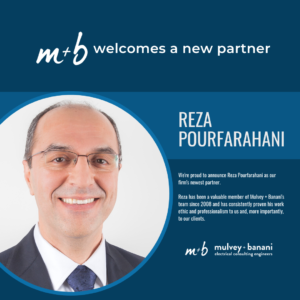 We're proud to announce Reza Pourfarahani as our firm's newest partner. Reza has been a valuable member of the Mulvey + Banani team since 2008 and has consistently proven his work ethic and professionalism to us and, more importantly, to our clients.
Reza has worked extremely hard since beginning his tenure with Mulvey + Banani to uphold the job he was hired to do and look for ways to improve its effectiveness and grow Mulvey + Banani's presence in the industry. Reza represents the company values in every client and colleague interaction. Reza graduated from the University of Tehran, Iran, in 1993 with a B. Sc degree. Lately, in 1998 obtained his M.Sc degree from the Sharif University of Technology of Tehran, both degrees in Electrical Engineering.
He has over 26 years of experience in electrical systems design and contract administration. Reza is an expert in commercial, retail and residential base building, new construction, modernization, tenant fit-out, and renovation projects.
Recently, Reza has been involved very successfully as a Sr. Project Manager and Design Lead for many projects in Western Canada, including projects in BC, Alberta, Manitoba and Saskatchewan.
Reza is ready to take on new and bigger challenges as he assumes the role of partner.
Congratulations again on a very well-deserved promotion for an awesome member of the Mulvey + Banani's team
About Mulvey + Banani
m+b is a cutting-edge electrical engineering design firm operating in Alberta, Mulvey+Banani (m+b) has developed a powerful reputation for quality service and electrical engineering excellence. We are a company that specializes in electrical consulting for the building industry. We are experts in the field of electrical engineering design and communications systems for commercial, retail, residential, industrial and institutional buildings. To know more about our experience (403) 262-7400