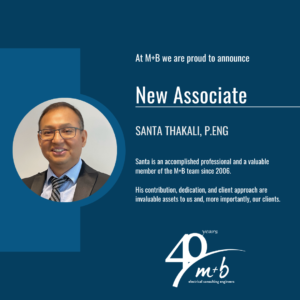 We are pleased to announce Santa Thakali s as our firm's newest Associate!
Please join us in congratulating this accomplished professional.
Santa Thakali
Santa is a P.Eng in electrical engineering with over 27 years of experience. He joined M+B in 2006. He obtained his Bachelor of Engineering- Electrical Engineering degree from Zhejiang University PR China in 1994
Santa has worked on several exciting projects, including high-rise commercial, high-rise residential and multi-use buildings. He was the lead designer for Manulife 707, a LEED® Gold, 27-storey,  state-of-the-art commercial building, and the YW HUB facility, which received the 2019 Mayor's Urban Design Award under the Urban Architecture award category. Before he joined M+B in 2006, Santa had extensive experience in international airport terminal projects and the US Department of State buildings projects overseas.
About M+B
m+b is a cutting-edge electrical engineering design firm operating in Alberta; M+B has developed a strong reputation for quality service and electrical engineering excellence. We are a company that specializes in electrical consulting for the building industry. We are experts in electrical engineering design and communications systems for commercial, retail, residential, industrial and institutional buildings. To know more about our experience, (403) 262-7400