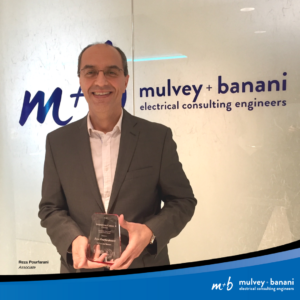 Congratulations to m+b  Associate Reza Pourfarahani for receiving 2nd Annual Schulich School of Engineering Internship Employer Appreciation Award.
About the Internship Programs  
The Internships are designed to give the students work integrated learning experience prior to graduation. They can bridge the gap between theory and practice and be prepared to excel in the workplace. Students gain practical experience in the field of study, earn money, develop industry contacts and networks and put your skills to the test outside the classroom.
The Internship Employer Appreciation Award
The Annual Schulich School of Engineering, Internship Employer Appreciation Award, Internship students were invited to nominate supervisors whom they feel/felt have been/are an exceptional mentor by providing outstanding direction, feedback, and encouragement throughout the work term
The goal of the Engineering Career Centre is to recognize supervisors and their organization for their contributions to advancing students' work integrated learning and providing real-world experiences for student learning and growth.
About m+b
Mulvey + Banani (m+b) is a cutting-edge electrical engineering design firm operating in Alberta since 1982. m+b has developed a powerful reputation for quality service and electrical engineering excellence. We are a company that specializes in electrical consulting for the building industry and are experts in the field of electrical engineering design and communications systems for commercial, retail, residential, industrial and institutional buildings.
For more information on m+b:  click here